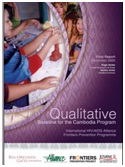 Author: Roger Henke, Sandra Jones
No. of pages: 92
Publication date: 2005
Publisher: KHANA
Available languages: English
The program aims to improve empowerment for most risk population and PLHIV, which is visualized as the interplay between social capital, an enabling environment and access to services and commodities. A baseline study was conducted using qualitative methods. Findings showed diversity in stigma towards affected populations, including variations among geographical areas, rural groups, and minority groups and due to status as SW or MSM. Sex workers were looked down upon the general community due to perceived low social class. The study found PLHIV were pessimistic about the future, isolated, and affected by low self esteem. PLHIV relied most on relatives and friends for support, followed by NGO and pagodas. PLHIV were found to be using private practitioners for medicine supply rather than public services.