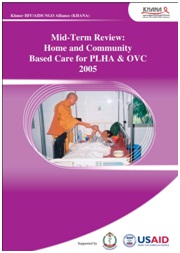 Author: KHANA
No. of pages: 24
Publication date: 2015
Publisher: KHANA
Available language: English
The review provides an overview of program implementation, challenges, impact to date and lessons learnt.
A qualitative method was employed using field visits, observation, semi-structure interviews and key informant interviews. Finding show achievements of home based care (HBC) activities include: increased technical skills related to home based care activities; increased HIV and ARV awareness; empowerment of PLHIV to resist stigma and discrimination due to their illness; facilitation of PLHIV voice through home care teams (HCT) and self help group (SHG) meetings. Challenges faced include: constraints related to planned time frame, limited budget for travel to reach isolated areas; difficulties following up with PLHIV migrating for work; demotivation of home based care staff due to limited budget, training gaps and demanding reporting requirements.